WELCOME TO
Guru Nanak Driving School Regina
SGI Certified Class 5 Driving Instructors | SGI Certified Driving School in Regina
Enroll Now
LEARN TO DRIVE
Our certified driving instructors and comprehensive courses
will help you become the best driver you can be.
Are you Looking for a Class 5 Driving School With HIGH PASSING RATE?
Don't Look Further...!

Guru Nanak Driving School is the Best, Most Affordable, and SGI Certified Class 5 Driving School in Regina, Saskatchewan offering 6 By 6 SGI Training and other Comprehensive courses in Regina and the Surrounding communities, i.e., 6/6 SGI Training – Class 5 (6 Hours In-Class and 6 Hours In-Car Training), Brush Up Lessons, Pre-Road Test Evaluation, Winter Driving Lessons, Class 4 Road Test Training, Rental Vehicle for Road Test.
To ensure Quality Driving Education, All of Our In-Class and In-Car Driving Instructors are SGI Certified and are well Trained and Experienced. You will enjoy a relaxed, positive, and encouraging environment as you start your Driving Lessons and learn to drive with us. We are ready to provide you a quality driving training and defensive driving techniques.
We GUARANTEE that you will get Complete 6 Hours of Driving Training as we continuously note down the time. Our Driving Instructor's travel time to pick you up will never be deducted from your Training Time.
Some Unique Features of our Driving School
Some Unique Features of our
Driving School in Regina
We are SGI Approved Driving School in Regina Saskatchewan. We provide High school and Class 5 Driver Training (6 hours in-Class and 6 hours in-Car training) also known as 6/6 Class 5 Training or 6 by 6 Class 5 Training in Regina, Moose Jaw, and surrounding areas. Upon completion of the course, we issue an official SGI 6 & 6 Certificate. If you would like to register for 6/6 Training, Please Click Here.
We offer a vast range of services and all our Driving lessons and courses are tailored to meet your individual needs. Being an SGI Approved Driving Educator, We assess your driving ability and needs and our experienced SGI Certified Driving Educator plans your Driving lessons accordingly. Our 6 Hours In class and 6 Hours In-Car Driving Instructors are SGI Certified, professional, patient, and polite. We offer multilingual services. The success rate for our students is over 85 percent.
Find out if you are ready for the Class 4 or Class 5 Road Test. We highly recommend you schedule your PRE-ROAD TEST EVALUATION with us. Our SGI Certified Class 5 Driving Ed. will observe your driving, Correct any mistakes and help you to improve so that you pass your road test on your first attempt.
A Driving School You Can Rely On
Why You Should Join Guru Nanak Driving School?
Choose Your Pricing Plan
We are providing our services at very reasonable and competitive rates.
6 Hours ZOOM Online Class (Every Sunday)
6 Hours In-Class and 6 Hours In-Car Lessons
Dual Brakes Equipped Vehicles
Winter and Defensive Driving Techniques
Parallel Parking (Very Easy and Simple Technique)
SGI Certificate Upon Course Completion
Final Road Test Driving Evaluation
Free Pick Up & Drop Off City Wide - NO EXTRA COST
Brush Up Lesson / Pre Road Test Lesson
Road Test Driving Evaluation
Winter and Defensive Driving Techniques
Parallel Parking (Very Easy 3 Steps)
Dual brake equipped vehicles
Driving Improvement Suggestions
Flexible Scheduling
Free Pick Up and Drop Off City Wide - NO EXTRA COST
Multilingual: English, Punjabi, Hindi, Urdu, Spanish
6 Hours ZOOM Online Class (Every Sunday)
6 Hours In-Class and 6 Hours In-Car Lessons
Dual Brakes Equipped Vehicles
Winter and Defensive Driving Techniques
Parallel Parking (Very Easy and Simple Technique)
SGI Certificate Upon Course Completion
Final Road Test Driving Evaluation
Free Pick Up & Drop Off City Wide - NO EXTRA COST
Rental Vehicle for Road Test
Road Test Driving Evaluation
Winter and Defensive Driving Techniques
Parallel Parking (Very Easy and Simple 3 Steps)
Dual Brake Equipped Vehicles
Driving Improvement Suggestions
Flexible Hours
Free Pick up & Drop Off City Wide - NO EXTRA COST
Multilingual: English, Punjabi, Hindi, Urdu, Spanish
Zoom online Class
6 Hours In-Class Lessons
Every Sunday Class
Gravel Road, City and Highway Driving
SGI Certificate Upon Course Completion
Defensive Driving & Winter Techniques
Competitive Prices
Multilingual: English, Punjabi, Hindi, Urdu, Spanish
Driving Class
How to Pass Class 5 Road Test in Regina, Saskatchewan – Step by Step Guide You Should know these things
Read More »
Driving Class
Guru Nanak Driving School is the best and most affordable driving school in Regina. We are providing our services in Regina,
Read More »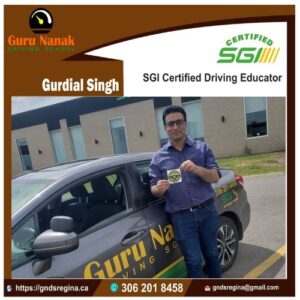 Driving School Regina
Guru Nanak Driving School Regina is the best and most affordable Class 5 Driving School in Regina. We have well-trained,
Read More »